December 31, 2020
/
/
Comments Off

on Securing Remote Employees is the Top 2021 Cybersecurity Challenge for Organizations
Security vendor CheckPoint provides insight into what are the organizational cybersecurity priorities for next two years, as well as where cybersecurity is going to be challenging.
It's no secret; cybersecurity has become much harder this year. The pandemic has taken a toll on every organization's cybersecurity posture, making it increasingly more difficult as more users want to work from home and cybercriminals step up their game to take advantage of this "new normal."
New survey data from CheckPoint highlights where the problems are and what organizations are planning on doing about it:
58% of organizations feel they are facing an increase in cyberattacks since the pandemic
95% say they changed security strategies mid-year
The two biggest security challenges are remote workers (47% of orgs) and protecting against phishing and social engineering attacks (42%)
Securing remote working is the top priority for the next two years (cited by 61% of orgs)
Half of orgs say their new security approach is here to stay, even after the pandemic subsides.
With a remote workforce, it's imperative that organizations look to improve the security posture, even by those users working on a home network and a personal device. Security Awareness Training is the one part of your security strategy that can be easily applied regardless of where the user works, what device they are on, etc.
Organizations look to be getting serious about how they will maintain the same levels of security they've enjoyed for years within the corporate network now that a material portion of their workforce works remotely. Ensuring the user plays a part of that strategy is going to be the critical element to determine whether the org is truly secure moving forward.
---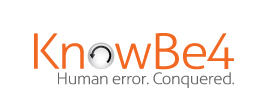 The world's largest library of security awareness training content is now just a click away!
In your fight against phishing and social engineering you can now deploy the best-in-class simulated phishing platform combined with the world's largest library of security awareness training content; including 1000+ interactive modules, videos, games, posters and newsletters.
You can now get access to our new ModStore Preview Portal to see our full library of security awareness content; you can browse, search by title, category, language or content topics.
The ModStore Preview includes:
Interactive training modules
Compliance modules
Videos
Trivia Games
Posters and Artwork
Newsletters and more!
PS: Don't like to click on redirected buttons? Cut & Paste this link in your browser:
https://www.knowbe4.com/training-preview?hsCtaTracking=96d42aa8-74cd-4485-9190-a4477723e0ef%7C6a6a630d-e175-436d-97b7-7876f19b6b55